DON'T LET THIS HAPPEN TO YOU!
Multiple arc flash incidents occur in workplaces across the U.S. every day.
The risk of an arc flash explosion occuring at your facility is not negiligible. The ongoing trend towards increasing power usage combined with an aging electrical infrastructure actually forecasts greater risk in the near future.
The Electrical Power Research Institute estimates direct and indirect costs to an employer from a fatal electrical accident in the millions. This includes:
Medical Costs
Lost productivity
Workers compensation
Hiring and re-training
Equipment replacement
Facility repair
Insurance premium increases
OSHA citations
Litigation and punitive damages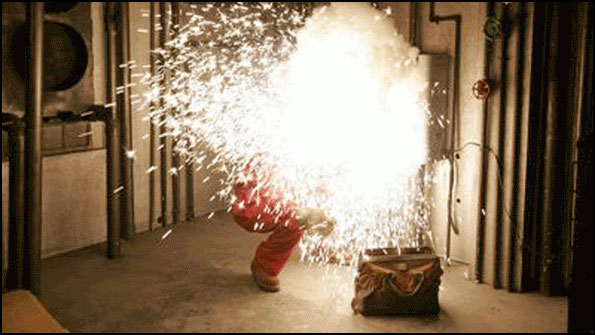 WHAT IS AN ARC FLASH?
An arc flash occurs when electric current passes through the air instead of its intended path. The result is extremely high heat that causes severe burns, blinding light and an explosion causing hearing damage, bodily injury and can be fatal.
And in the end, OSHA will enforce compliance, including performing an Arc Flash Hazard Analysis, through a succession of inspections that can leave you scrambling.
While every facility will have its' own unique set of costs, it has been proven, without exception, it is far more expensive to allow one arc flash accident to occur than it is to prevent it.
NFPA 70E-2012 130.4 requires that a shock hazard analysis be performed before beginning energized work.